Lena Eliasson
(Sweden) is one of the fastest women in the world orienteering (PB in half-marathon is 1:15:48; 3000 m - 9:46.22). Swedish athlete is famous like a strong Sprint specialist (7 medals from WOC, EOC, NOC and World Cup events). But this year she has focused on forest orienteering and made a
breakthrough
. Lena tells about her coach
Kalle Dalin
(on photo)
.
1) Who are your personal coaches? What is the period of your cooperation?
During early senior years I discussed training with members of my club IKHP, mostly Matti Envall 2003-2006. Then I created my own mixed program, based on theoretical discussions with Emil Wingstedt (sprint expert) and Mattias "Vagnis" Karlsson (long distance expert), 2006-2008.
2009-now I have
Kalle Dalin
, coach at Dala Sports Academy (EOC long distance champion 2004) as my coach.
2) Personal coaching is a continuum from rare meetings and discussion different topics
with runner (Scandinavian pattern) to design of detailed plans and total control of physical, technical, mental trainings and recovery program (Soviet/Russian pattern). What is your pattern of cooperation? Which aspects of trainings are under control from your coach?
After my period of sickness in 2008 I had a tough time recovering and finding myself and a good level of practice sports. During autumn 2009, I started to plan more detailed and also follow up my training with Kalle Dalin. This helped me find the joy again and we worked hard with putting reasonable goals to get me back on track. After that we have continued with planning and evaluation almost every second week and we plan everything together. We don't look at heart rate and other data, so I guess it's a mixture of Scandinavian and Russian pattern. main focus is mostly to mental and recovery plans, I tend to rather train too much than needing more push with physics...
3) What is the feedback system?
Only meetings and discussions. Since I do trainings with Dala Sports Academy we meet at trainings but mostly strength trainings.

4) Qualification and communication are the basement of successful coaching. Can you tell about THREE most valuable skills of your personal coach?
(1) Focus on mental status, helping me stay positive, really remember the things I do great, and also help me valuate everything outside the training to make the training plan reasonable. Me, Lena, as a person is more important than Lena as an athlete.

(2) Interested in discussing new theoretical thoughts about training and when knowledge is outside the coach's skills he tries to find the right person to ask.

(3) Pushes all athletes in a training group during trainings and open to discuss methods etc. if anyone asks. Not just caring about the ones that use him/her as a personal coach.
5) Do you use some other services related with coaching?
(e.g., mental trainings coach, dietarian, advisors in some specifics topics - biomechanis, recovery, strength, etc.)
I have had a mental coach, Eva-Lena Bergman Nordqvist, that I've worked with for a long time, e.g. since I started to work myself back from sickness. We, of course, handle sports related issues but to start with I came to see that I actually had lots of other things that blocked me from performance in sports, so we've worked a lot with all my "garbage" from life during these years also.
Through our national team I've also had the opportunity to educate myself with "Prestationsutveckling genom kommunikologi" (Performance through communication), how to communicate with myself and others to perform better. That was actually my start of realizing how much in "normal life" that I actually had to deal with to be able to release concentration and focus on my sports performances.
Finally, I also do some mental preparation with our national coach
Anneli Östberg
, when it's needed close to competitions and training camps. It's good to have that opportunity close to the team.

6) What is financing source of personal coaching?
Until now, I've had support from federation about mental coaching, but unfortunately the Swedish Sports Federation (RF) have decided that it's ONE special education within mental coaching that they support and therefore I now have to fix this by myself.
Kalle Dalin is coach of our training group at Dala Sports Academy and we meet connected to that. Although, I was very pleased that he could achieve the award "
Coach of the year 2012
", that meant some small extra money for all his work with me and the rest of the athletes using his help.
Many thanks, Lena, for interesting interview!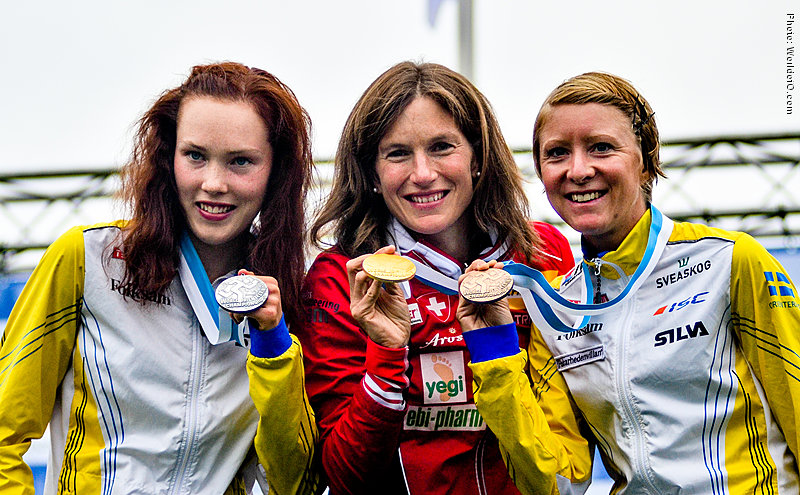 WOC-2013, bronze in Long (photo is from World of O)