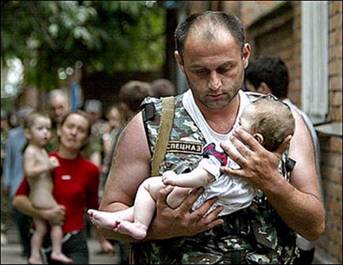 There is one story that I cannot tell without tears. 1st September is a holiday in Russia - The Knowledge Day. Parents, small brothers, and sisters of pupils visit schools and enjoy the beginning of new school year. 1st September in 2004 school №1 in Beslan (south of Russian Federation) was captured by 32 terrorists. 1128 children and adults became hostages of some beasts in human form. This terroristic attack was one of several other horrible attacks in 2004 (including suicide bombers in Moscow metro, and two blown airplanes). But the tragedy of attack to the Beslan school is that the most defenseless people became targets.
All hostages were placed in the school's gym. The terrorists installed explosives everywhere, fully barricaded exits and windows, and set up several machine guns.
Three days hostages (including small kids and babies) spent without food or even water in very hot conditions! Negotiations with terrorists were not successful. Suddenly 3rd September at 13:05 in the gym consistently occurred two powerful explosions with an interval of about half a minute, resulting in a partial collapse of the roof. Hostages started to jump out from windows and tried to escape them-self, but terrorist used machine-guns and shot them in the back!
In this chaos and nightmare Russian special forces (Russian Spetsnaz = Спецназ) started an unprepared storm, they just tried to save as many children as they can.
Terrorists began to shoot hostages inside the school and threw grenades to kill more. Spetsnaz lieutenant Andrei Turkin died by putting his body over the grenade (to save a crowd of children around). 11 soldiers sacrificed their lives that day and 55 were injured (the biggest loss ever for Russian special forces).
147 adults and 186 children (1-17 years old) died that day...
But we remember and weep over the innocently murdered people...